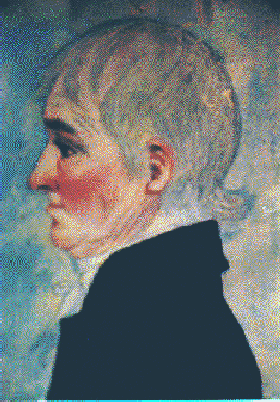 WILLIAM MASON -- 1748 - 1823
Portrait from water color done about 1815, artist unknown.
William Mason, was an early Baptist Minister and Captain in the Fairfax (Culpeper County, VA) Militia during the Revolutionary War. He was born on his father's farm in Overwharton Parish, Stafford County, VA on November 30, 1748. He was the eldest son of John Mason and Mary Nelson Mason.
He married Lucy Benson, probably the daughter of Enoch Benson and Mary D'oail Benson. Together they raised thirteen children on a 200 acre farm east of present day Culpeper, VA and west of the Wilderness Tavern, site of the famous Civil War battle.
According to letters and historical accounts, William, was a small man with a strong voice that "could be heard in the small Blue Ridge Valley churches singing the praises of the Lord." Elder Mason, as preachers were known in those times, was a man "plain in his ways and in his words", whose singular mission was to save souls.
Little is known of his Revolutionary War service, although his service is authenticated by the Daughters of the American Revolution and the Sons of the American Revolution.
Being one of the earliest Baptist Ministers in America, his religious life is well documented. His first ministry was at Mt. Poney Baptist Church (now Culpeper Baptist Church). He served that church from 1782 until he retired in 1822--just before his death on April 26, 1823. In his first year at Mt. Poney, "the year of the great revival", he added over 200 members to the church rolls.
While serving Mt. Poney, Reverend Mason started other churches in the Culpeper area. He served as their circuit riding pastor until 1822. These Virginia Baptist churches included Robinson River (1790), Gourdvine (1791), and Bethel (1803. All of these churches still hold regular services. From 1783 until 1822, Mason officiated at 531 recorded Culpeper County weddings.
Through his actions, William Mason left a clear, and sometimes contradictory, record of his beliefs. Prior to the Revolution, there were two groups of Baptists; the Regular Baptists and the Separate Baptists. The Regulars believed that their ministers should be licensed by the Episcopal Church as required by law. The Separatists believed the work of God was superior to the laws of man and they did not need to be licensed to spread the word of God. Mason was a Regular Baptist, believing that the issue of licensing was trivial and fighting the law took time away from saving souls. After the War, William, along with John Leland, was instrumental in bringing the two groups together.
William Mason owned slaves, but worked (again with Leland) to push the legislature to pass laws phasing out the institution of slavery, which he called 'evil'.
Another insight comes from a small rebellion that rose in Mason's own congregations. The disagreement was over clothing. Some members believed that it was their duty to wear "plain black" clothing to show piety. William quickly put down the rebellion with simple logic; proclaiming that the Lord didn't look at your clothes when you arrived at the gates of Heaven. Therefore, his congregations would not waste time that could be spent saving souls, trying to force their will on others.
William's attitudes were probably learned from his father, John. John was an Episcopalian and a member of Overwharton Parish in Stafford County, VA. He and many of his peers, were extremely leery of the Episcopal establishment. These doubts about the Church became evident as early as 1680 when the Vestry of Overwharton Parish became involved in a dispute with the Rev. Mr. John Waugh. The 'liberal' Virginians wanted to abolish the Church's role as agent of the state. The Church had the power to levy and collect taxes or tithes, sharing the proceeds with the State. (The role was abolished before the Revolution.) Rev. Waugh disagreed with the 'liberals' and ran for a seat in the House of Burgesses to help insure the Church's role. He probably won because all of the parish members were told that voting against the Reverend was a mortal sin and would land them in Hell.
This infuriated the Vestrymen of Overwharton Parish who accused Waugh of "constantly meddling in politics". Rev. Waugh is probably responsible for the original doctrine of the 'separation of church and state'. Virginians of that time believed that you couldn't serve God and the King at the same time. Anyway, the Baptist Church came into existence in Virginia after that. It is probable that John's skeptical attitudes rubbed off on his son, who became one of the leaders in the Baptist Church of post-revolutionary Virginia.
William Mason's son Silas emigrated from Virginia to Kentucky and arrived in Marion County, Missouri around 1832. Silas's son James moved to Ralls County Missouri where his son Alfred was born and died. Alfred's son Carl was born in Ralls County and owned grocery stores in Missouri and Kansas, returning to Hannibal, Missouri in neighboring Marion County, during the Depression. Carl's son and my father, Carl Jr. was born in Kansas, and like so many of the WW II generation that served in the military, lived in many places including Kansas, Missouri, Alaska, California, Ohio, and Texas. He eventually settled in Central Georgia where he died in 1991.
Return to Lynn's Home Page
Last Updated Sunday, July 26,1998