Our 1965 Chevrolet Pickup Truck
In December of 1998 I purchased a 1965 Chevrolet Truck from a long time friend and business associate in Tyler, TX.
---
Specifications

---

Year - 1965

Model - Chevrolet C10 (½ ton)

Style - Step Side

Wheel Base - 127" (Long)

Drive Train - 283 ci V8, 3 speed manual transmission
---
Road Trip!

---
In March of 1999, my son Michael and I traveled from Bloomington, IL to Tyler, TX (850 miles) to pick up our December purchase.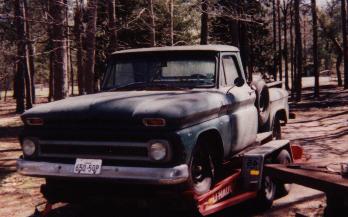 This is a picture of the truck after it was loaded on our U-Haul trailer in Tyler.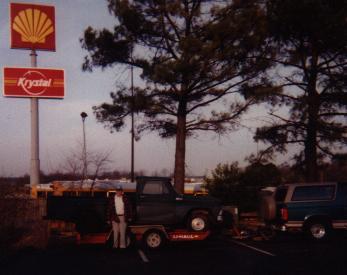 Here is me, the old truck and the Bronco at Forrest City, AR. Being a loyal southerner, we had breakfast at one of two Krystals in Arkansas (we stopped at both!)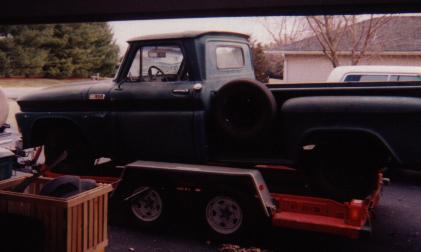 This picture was taken at our house in Bloomington the day after the trip. The old 65 made the trip without a major incident. We did think that the rough roads in Arkansas would injure us and the truck. If they would spend less money on signs saying "Home of President Bill Clinton" they could pave the damn roads!
---
June /July 1999
---
Once the truck was back in Illinois, class at HCC was over and we made our visit to the Texas panhandle to see the in-laws, work on the truck began in earnest.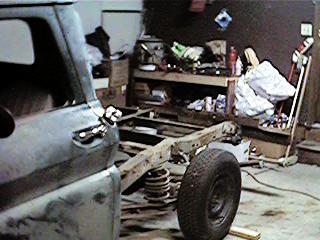 First, the body parts were removed from the frame. The truck bed went first.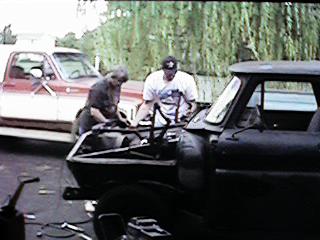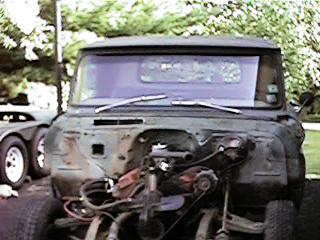 My two trusty helpers, Debbie and Mike (wife and son) work diligently at removing the front end sheet metal. On the right is the truck with the front end gone.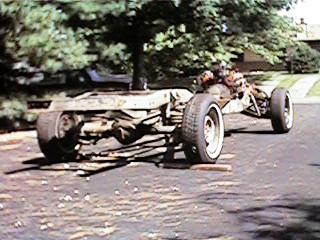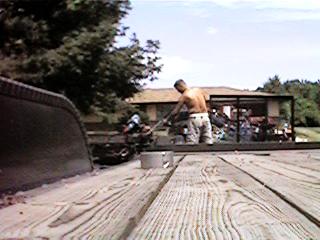 Stripped and ready to be cleaned. In the right hand picture, Duane Lopez from 'Under Pressure' pressure washing service in Bloomington, cleans the frame.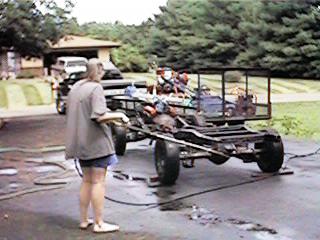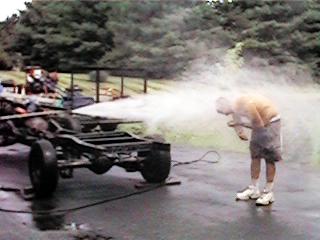 In these photos, Debbie gets ready to wash the washer.
---
The Restoration Begins!
August 1999
---
During any restoration, the point at which you stop taking things apart and begin putting things back together is a most significant event.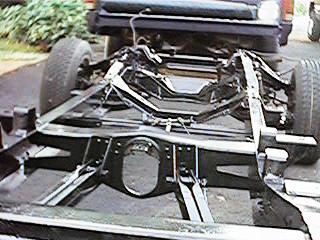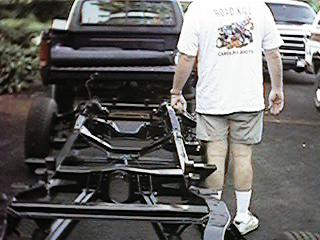 This is the frame after 2 coats of POR 15 Black and one coat of POR 15 Frame Coat. Looks a lot better than it did before. Debbie did all of the painting with a brush - about four hours per coat. Here I am inspecting her work in my favorite t-shirt.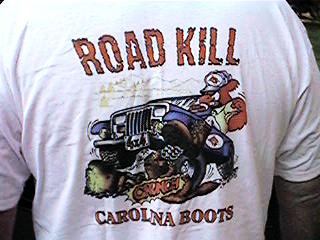 This is a close up of my favorite t-shirt!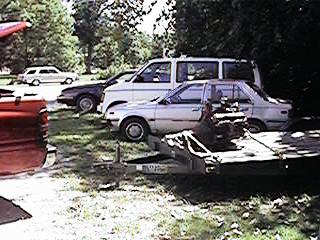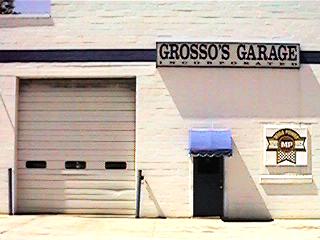 Here is the engine and transmission after removal from the truck and sitting at Grosso's Garage awaiting its turn at rejuvenation. Why did I pick Grosso's - he has an excellent reputation in Bloomington and he is at least as old as I am and probably remembers when 65' Chevys were in daily use!
---
Putting it back together.
September 1999
---
IT'S HERE!
The new arrival from Goldfield NV.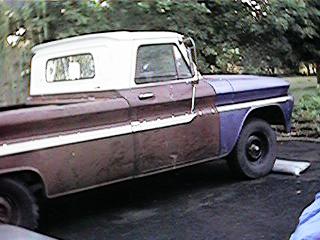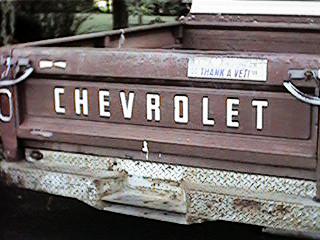 It's another 1965 Chevy pickup. I wanted this one to use for parts needed for the Texas truck. When I am finished restoring the Texas truck back to original condition, the Nevada truck will be built the way I want to build it! I (and my son) have a 1978 4x4 Chevy Blazer 350 engine, 4 speed with 70,000 miles on it. I am going to put the running gear from the Blazer (it's a total rust case) into the Nevada 65.
I bought this truck on ebay from a fellow in Goldfield NV named Rick McClurkan. If you ever use ebay and find Something from Rick, feel safe in buying it. He's a good person to do business with. The truck was delivered by JB Auto Transport of Arizona. It took a while, but it got here.
September 17, 1999
To Be Continued!